Our
Handbook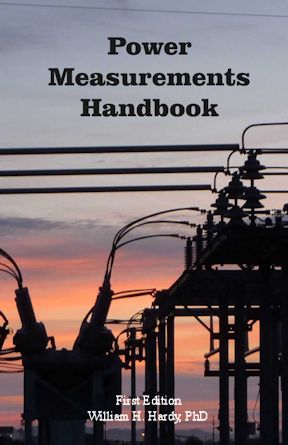 Introducing the Power Measurements Handbook, a comprehensive handbook for electricity metering professionals.
Beginning with DC and AC circuit theory and progressing through advanced power theory, a complete modern presentation is provided. Over 130 technical drawings, most in full color, provide complete documentation of US meter sockets, meter forms and service types. Current and potential transformer theory and application are presented. For each service type wiring diagrams are provided for each applicable meter form. Field testing is addressed for sites, PTs, CTs, and meters. For common non-Blondel meter applications a complete analysis of potential errors is provided.
Power Measurements Handbook, 66 pages, 5.5" x 8.5", spiral bound.
Ordering Information
Thank you for your interest in purchasing the Power Measurements Handbook. Payment is easy and secure through Paypal directly or using a credit card. You do not have to have a Paypal account. For small quantities we recommend selecting GROUND shipment. This goes by First Class Mail. For larger quantities use domestic express which goes by Fedex Ground. If you need it really fast, please call or email us directly.
The Handbook is also available on Amazon.com, however Amazon takes a hefty commission so buying directly through this site is greatly appreciated.
Order now using Paypal.
| SELECT | QTY DISCOUNT | PRICE | ACTUAL QTY | SUBTOTAL |
| --- | --- | --- | --- | --- |
| | 1 – 9 | $29.95 USD | | |
| | 10 – 24 | $25.95 USD | | |
| | 50 – 99 | $20.95 USD | | |
| | 100 – 199 | $19.50 USD | | |
| | 200+ | $18.50 USD | | |